IRISTEL Mol mission is to provide local telephone services on the market with the highest world standards and to build on our international experience to connect Moldova with Russia, Ukraine, Belarus, Romania, Western Europe and beyond, at unbeatable rates .
Because the communications needs of the citizens of Moldova are important to us, we decided to promote on the local market the prepaid cards service for international calls, at the lowest prices compared with the ones offered of other companies on the market.
The IRISTEL cards have national coverage, being accessible from the Moltelecom network, as well and Orange and Moldcell.
Types of cards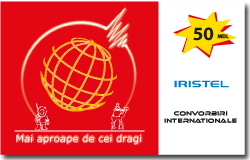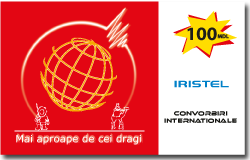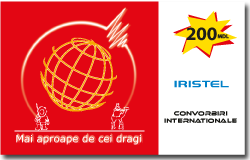 Card Rates
Iristel prepaid cards Dealers
The Iristel cards are available at all post offices in Moldova, and at over 400 QIWI terminals across the country.


Cards purchased through the QIWI terminals do not have fixed values. You can enter any amount between 20 MDL and 1000 MDL; the amount will be automatically converted to usage credit in Euro, using the Euro exchange rate of the day.
General instructions
From a telephone, dial the corresponding access number in Moldova 1628 (reachable from Moldtelecom, Orange and Moldcell).
Notice: Starting with January 1st 2013, calling 01628 (prepaid cards access number) from Moldtelecom network, will be done by simply dialing the number 1628, without the "0″ in front.
Enter your PIN number followed by the key #
Dial the number you wish to call followed by the key #(00 + destination country code + destination number + #)(Ex: To call the number 22 89 33 33 dial 00 373 22 89 33 33 #)
International access numbers
Iristel has a very attractive offer for customers that travel or work abroad. You can now call home or anywhere in the world if you are in Romania, Italy, England, Israel, United States of America or Canada, by dialing the access numbers below:
Romania: 0808 360 360 (call free of charge from any

*landline

or

**mobile phone

)
SUA and Canada: 866 865 2782 (call free of charge from any

***landline or public phone

)
Italy: (39) 069 480 172 (local call to Rome from any landline, mobile or public phone)
England: (44) 203 608 8996 (local call to London from any landline, mobile or public phone)
Israel: (97) 239 786 742 (local call to Tel Aviv from any landline, mobile or public phone)
Customer Service
For more information please contact to
Telephone: +373 22 89 3333
Email: customercare@iristel.md
Notes
Charging is done at every 1 minute interval.
The card expires 6 months after the first use. First use is considered the first time the PIN was typed by the client, even if the call was not made.
The card can be used from telephones which have tone selection functionality. Rates start at 0.04 Euro/minute, and can be changed unilaterally by the Supplier. The card is not refundable.
* additional fee of 0.03 euro/minut
** additional fee of 0.06 euro/minut
*** additional fee of 0.03 euro/minut